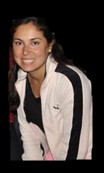 Buemo Carla Paola
Grupo de Investigación en Genética Aplicada
Becario Pos Doctoral
Líneas de interés:
Reproducción animal, técnicas biotecnológicas como clonación animal, ICSI, fertilización in vitro, inseminación artificial, criopreservación de especies, banco de germoplasma.
Artículos de referencia:
1) BUEMO CP; GAMBINI A; MORO L; HIRIART M.I; FERNANDEZ Y MARTIN R; COLLAS PHILIPPE; SALAMONE D.F. Embryo Aggregation in Pig Improves Cloning Efficiency and Embryo Quality. PLOS ONE. San Francisco: PUBLIC LIBRARY SCIENCE. 2016 vol. n°. p issn 1932-6203.
2) CG Luchetti, RJ Bevacqua, MS Lorenzo, MF Tello, M Willis, CP Buemo, DM Lombardo, DF Salamone. "Vesicles cytoplasmic injection: an efficient technique to produce porcine transgene expressing embryos". Reprod Dom Anim 2016, doi: 10.1111/rda.12708 ISSN 0936–6768.
3) Gambini A, De Stéfano A, Jarazo J, Buemo C, Karlanian F, Salamone DF. Embryo aggregation does not improve the development of interspecies somatic cell nuclear transfer embryos in the horse. Theriogenology. 2016. PubMed PMID: 27157390.
4) MORO L; HIRIART MI; BUEMO C; JARAZO J; SESTELO A; VERAGUAS D; RODRIGUEZ ALVAREZ L; SALAMONE D. Cheetah Embryo aggregation in interspecific SCNT improves development but not gene expression. REPRODUCTION. BIOSCIENTIFICA LTD. 2015 vol. n°. p issn 1470-1626.
5) MORO L; JARAZO J; BUEMO CP; HIRIART M.I; SESTELO A; SALAMONE D.F. Tiger, Bengal and Domestic Cat Embryos Produced by Homospecific and Interspecific Zona-Free Nuclear Transfer.. Reproduction Domestical Animal.Oxford: Wiley online library. 2015 vol. n°. p issn 1439-0531.
6) Salamone, D., Bevacqua, R., Gambini, A., Canel, N., Hiriart, M.I., Moro, L., Buemo, C., Gibbons, A. Nuevas tecnologías de micromanipulación en especies domésticas.  Revista Taurus. Volume 16, Issue 62, 2014, Pages 66-68.
7) MORO L; VICHERA G, BUEMO C, SALAMONE D. DNA fragmentation, transgene expression and embryo development after intracytoplasmic injection of DNA- liposome complexes in IVF bovine zygotes. ZYGOTE. Cambridge: CAMBRIDGE UNIV PRESS. 2012 vol. n°. p - . issn 0967-1994.
8) Salamone D, Bevacqua R, Hiriart M.I, Buemo C, Luchetti C, Moro L, Fernandez Martin R. "Transgenesis in farm animals" Publicado 2012 en la revista internacional Animal Reproduction 9 (4):772-776.